Hi Genny, thanks for having me! Ever since the first time I came across Books are my Heroine, I have been fascinated with the theme of the blog. You don't see many blogs with themes running through all of the posts, so that makes this blog truly unique, and not only that, the theme actually works really well!
On Pen to Paper, I tend to blog about Dark Fantasy, Science-fiction, Urban Fantasy and YA books more often than general fiction, so I thought I would take the theme of this wonderful blog, and talk about some of my favourite heroines in my preferred genres.
The first heroine of fiction for me is going to have to be Sookie Stackhouse from the wonderful
Sookie Stackhouse
(or True Blood) series by Charlaine Harris. I fell in love with Sookie and her world from the very first page of the very first book, which isn't surprising if you've gotten to know her too. She's strong-minded, strong-willed, feisty (when it's required), loyal and friendly. She's also not abnormally strong (she doesn't beat up every bad guy that comes her way), and equally, she's not the damsel-in-distress type that is found all too often in this genre – so her character makes for a refreshing change.
The series is now 11 books long and it has been wonderful taking this journey with Sookie and watching her world change around her. Another positive Sookie trait is that despite everything that has happened to her, and despite the numerous changes in possible love interest, she always manages to work out what she wants from each guy, and then she sticks by it, unlike other female protagonists, who can't seem to make up their minds and stop messing the guy(s) around! Although, saying that, another of my Urban Fantasy heroines is exactly this kind of character (to begin with at least).
Faythe Sanders is the heroine of the
Werecats
series by Rachel Vincent, and although in the first couple of books she's immature, indecisive and (for want of a better word) whiney, she does eventually begin to decide what she wants with love interest, Marc – even though this may not necessarily mean that she stops messing him around, at least she no longer does so intentionally! Apart from this minor flaw, Faythe is certainly a feisty lady. In the first in the series, she openly rebels against her family's wishes and against the tradition of her pride in order to get a sense of freedom and independence from a life that is otherwise already laid out before her, which I greatly admire in her. She decides to do this by staying on in education at college, but it doesn't take long for her unwanted life to catch up with her anyway, dragging her back to her father's ranch by the tail. This, though, is where the fun really starts! Although Faythe does come across danger and get herself snared in its trap during the first novel, she is still feisty enough and smart enough to keep herself alive and even do some damage to the bad guys herself, which is great fun to watch unfold, and gives her character much more depth than you might think.
Taking a step away from Fantasy now, and into the world of crossover YA/adult fiction, with
Before I Die
by Jenny Downham. As it's easy to imagine just from the title of the novel, it's a particularly sad read, and it will definitely have you in tears by the end, but what I'm interested in, is what comes before that. Tessa, the main character, is 16 and terminally ill, having just months left to live, decides to compose a list of all the things she wants to do before she dies. As she steadily works her way through the list, she shows just how strong her character really is – despite knowing that she'll die so soon and so young, she doesn't dwell too much on what will happen, but instead decides to live life to its full and go out with a bang – something I know I'd struggle with, so this makes her even more admirable. By the end of the novel I was completely in love with her character, so with the inevitable approaching fast, I became even more attached to her, which only added to the eventual upset of the ending. This novel and Tessa's unbelievably strong character has stuck with me for a long time (I read this book in spring 2009), and I know will stay with me for a while still.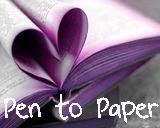 Photo from here