Hello, Bookies! Just wanted to let you all know that I have written a guest post on the lovely Dani's blog,
Pen to Paper
. To see my thoughts on all things heroine, click over to Pen to Paper now! The direct link to my post can be found
here
.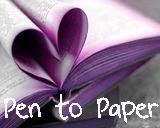 Click the button to visit Dani at Pen to Paper!