Wishlist Wednesday is a weekly meme hosted by Dani at
Pen to Paper
. This week, I'm looking forward to grabbing a copy of
Arranged
by Catherine McKenzie. I'm currently in the mood for some fun chick-lit, probably inspired by the slightly warmer weather here in Canada. Here's the teaser summary from
Barnes and Noble
: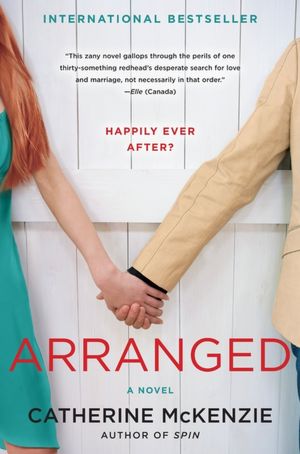 Anne Blythe has a great life: a good job, close friends, and a potential book deal for her first novel. When it comes to finding someone to share her life with, however, she just can't seem to get it right. When her latest relationship implodes, and her best friend announces she's engaged, Anne impulsively calls what she thinks is a dating service—only to discover that it's actually an exclusive, and pricey, arranged marriage service.
Anne initially rejects the idea, but the more she learns about the service, the more she thinks: Why not? After all, arranged marriages are the norm for millions of women around the world; maybe it could work for her.
A few months later, Anne is traveling to a Mexican resort, where, over the course of a weekend, she meets and then marries Jack. And initially, everything seems to be working out. . .

.
This book sounds really interesting and completely different from anything I've ever read before. Arranged marriages are a subject that ignites much curiosity here in the west so I'm very interested in learning more on the subject, especially if the lesson comes in the form of a snappy chick lit novel. Plus, Catherine McKenzie is a Canadian author from Quebec, so I'm excited to support a Canadian author. If any of you have already read this book, let me know what you thought!